By adapting a teaching philosophy of experiential learning, we, at Center of International Programs (hereinafter referred to as CIP), incorporate practical learning activities with theoretical foundation to support and solidify your knowledge. We strive to ensure that you will have the opportunities to become one of the most valuable players in the business world by teaching you skills and knowledge of an exceptional standard.
International Forum
Almost every month, we invite external speakers from academic and practical world to share their expertise and experiencesin the contemporary global business environment with you; and we also provide you opportunities to interact with some of the most successful and influential people in the business world.
The Vice minister of Economic Affairs, Agriculture and Innovation of the Netherlands, French economist Dr. Michael Aglietta, Austrian Sinologist and Vice Present of University of Vienna Dr. Susanne Weigelin-Schwiedrzik, managers from different industry, such as General Moto, Fedex, Coca-Cola, and Schindler, and consul general of Shanghai from Canada, Spain, Brazil, and Israel were some of invited International Forum Speakers..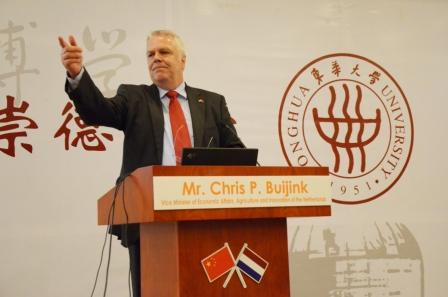 Vice Minister of Economic Affairs, Agriculture and Innovation of the Netherlands Mr. Chris Buijink speaking in ICES International Forum)
Immersion Week
Field trips to companies in different industries, workshops on academic skills, personal skills and job hunting skills, conducting real research projects, participating on competitions, culture visits, and other formats of activities are offered during immersion week of every semester, aiming to let you have the opportunities to prepare yourself for the challenging business world in the future.